Zbigniew Seifert Variospheres
Live in Solothurn

Zbigniew Seifert
The Zbigniew Seifert Foundation in Poland found a rare and historical live recording of the late jazz violinist Zbigniew Seifert, a musical giant who died much too early. The recording was made in Solothurn (in Switzerland), during the Swiss Jazz Days.
Zbigniew Seifert went on the road with his European quartet "Variospheres" in the late seventies.
This album, although soundwise not technically perfect, is a rare testimony of the great violinist playing his music live with his own band.
Tracks :
1. Unidentified piece (Zbigniew Seifert ?)
2. Man of the light (Zbigniew Seifert)
3. Way to oasis (Zbigniew Seifert)
4. The sound of gold (Michel Herr)
5. Turbulent plover (Zbigniew Seifert)
6. On the farm (Zbigniew Seifert)

Listen to musical excerpts here.

Musicians :

Zbigniew Seifert (PL) - violin
Michel Herr - piano, Fender Rhodes electric piano
Hans Hartmann (CH) - double bass
Janusz Stefanski (PL) - drums

Recorded live on January 18, 1976 in Solothurn (CH).
Released in November 2017 by the Zbigniew Seifert Foundation (PL). CD (CD-ZSF-2).

See also some photos taken during the tour.

The album is available a.o. here.

Michel Herr about his collaboration with Zbigniew Seifert :
"It was a privilege to be a member of this magnificent band in which four strong individuals served with great spirit the beautiful music of Zbigniew Seifert. The name of the band referred to the multiple and contrasting atmospheres that we used to explore (straight modal swing, free sections, binary pieces, folk influences...). This quartet was probably a unique opportunity for Zbigniew to present his own band and his own music extensively in Western Europe (I think we played in Germany, Switzerland and Luxemburg). Zbigniew also invited us to bring in some compositions.
Each of us had the sensation that something special was unfolding.
This tour leaves me with great memories of some intense playing and beautiful complicity between the four musicians.
And for me, the conviction to have shared the stage with a true master."

More liner notes on CD Baby (Under About his album, click on Read more...).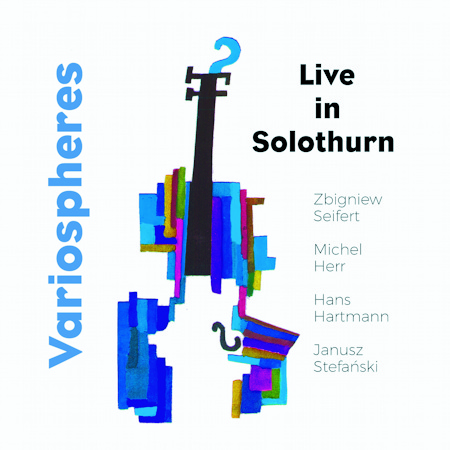 The press / La presse

En français

"Cette musique est pleine de spontanéité et d'énergie, issue d'un accord incroyable entre les artistes. Chacun des musiciens semble contribuer démocratiquement à chacun des morceaux. Seifert est au meilleur de sa forme : jeu chargé d'émotion, exultation extatique, presque furieuse.
A chaque instant, nous voyons que nous avons affaire à quatre fortes personnalités, qui peuvent tout faire, sans se ménager un instant.
C'est une musique brillante qui nous est donnée au fil des 77 minutes.
La publication de ce matériel est un évènement à l'échelle mondiale, et sa valeur est inestimable.
Un énorme bravo à la Fondation Zbigniew Seifert pour présenter au monde ces enregistrements inestimables !"
Robert Ratajczak, Longplay blog (PL), traduit du polonais.

In English

This is music full of spontaneity and energy, created spontaneously but created thanks to an incredible complicity between the artists. Each of the musicians seems to contribute democratically to all the pieces. Seifert is at the top of the form : playing with emotion, in ecstatic excitement, almost with fury. At every moment we can see that we are dealing with four strong personalities, perfectly capable to give everything to contribute to the music. This brilliant music (77 minutes ) is also an example of the direction in which jazz followed in the mid-1970s. It is hard to believe that the material has not been published in the form of a record so far, for more than 4 decades resting in the private archives of Swiss jazz organizers Renate and Six Trutt. The publication of this material is an event of world stature, and the musical content is invaluable.
Big applause for the Fundacja im. Zbigniew Seifert for presenting these priceless recordings to the world !
Robert Ratajczak, Longplay blog (PL), translated from Polish.



* * *


"The short-lived quartet Variospheres, recorded here at International Swiss Jazz Days in January 1976, is perhaps indicative of the sort of dynamic band that Seifert was searching for to interpret his striking compositions.
The energized, fourteen-minute, untitled, opening track says everything about Seifert's musical philosophy at that time. Following a breath-taking violin introduction from Seifert that's both lyrical and yearning, Hans Hartmann's feverish bass lines, former Stanko-band mate Janusz Stefanski's propulsive, highly animated kit work and pianist Michel Herr's free-spirited roaming establish a group mode that hints strongly at the influence on Seifert of John Coltrane and Charles Lloyd's seminal 1960s quartets. Over fast-walking bass and Stefanski's cymbal-heavy drive, Hartmann's McCoy Tyner-esque solo is followed by an extraordinarily fast and articulate riposte from Seifert -often dubbed the Coltrane of the violin and for good reason.
The modal jazz that stirred Seifert's passion is heard to equally dramatic effect on the epic "Man of the Light." Hartmann maintains, with slight deviations, a single-note vamp that casts a hypnotic spell as Seifert and Herr stretch out. Here, Seifert demonstrates his innate lyricism even at blistering pace, his soaring improvisation as seductive as bird song. Hartmann's bass ostinato is a little high in the mix on "Way to Oasis"- in general the quality of this recording is less than perfect- but that doesn't detract from stellar solos from Seifert on electric violin and Herr on electric piano, with Stefanski's ever-present fire encouraging both. Structurally, it's one of Seifert's simplest tunes, built upon rising-falling waves of intensity, and carried by the virtuosity and invention of the leader.
The pace eases off a tad, and with it the intensity, on Herr's extended composition "The Sound of Gold"- an even-tempered arrangement that frames individual forays of contrasting hue from Seifert, Hartmann and Herr. The change in tempo and atmosphere, in an otherwise highly-charged concert, is highly effective.



* * *


Two classic Seifert compositions round out the set; "Turbulent Plover," another high-tempo modal workout, fuelled by Stefanski and Hartmann's frenetic rhythms, features terrific solos from Herr on acoustic piano—unfortunately low in the mix- and Seifert, whose prolonged, dizzying attack precedes a feature spot for the hard-working Stefanski; "On the Farm" begins with another mesmerizing, unaccompanied outing from Seifert, this time more folksy in flavour, before he strikes up the memorable head. Herr's electric piano solo is underpinned for the first time by comping from Seifert, who in turn picks up where he left off, switching from acoustic to electric violin to ignite this feisty jazz-fusion workout.
Listening to Seifert's breathless improvisations with Variospheres it's easy to forget that, though classically trained, he'd only taken up jazz violin five years previously, having played saxophone up to that point. Variospheres could well have provided Seifert with the necessary stimulus to experiment further and expand his language, but sadly the quartet's 1976 tour of Germany and Switzerland was to be its first and last hurrah. This electrifying concert, for all the technical imperfections in the recording quality, serves as a fine testament to Seifert's extraordinary talent."
Ian Patterson All about jazz.

* * *


" ...The music is typical of the modern European Jazz of that period, which was heavily involved in post-Coltrane Free improvisation and constant search of new forms of expression. The European scene, on both sides of the Iron Curtain, was buzzing with incredible productivity and discovery, and Seifert and his quartet represent the atmosphere of the period perfectly.
Although the sound quality of this recording is far from perfect, it manages to bring forward the incredible intensity of the music and the total involvement from the musicians. Seifert and Herr deliver lengthy fiery solos and the rhythm section supports the music and drives it ahead, both during the more swinging parts as well as during the freely improvised parts. Seifert's incredible compositions are always a delight.
The importance of the fact that this music is finally seeing a release, over forty years after it was recorded, is enormous. It adds to Seifert's relatively limited recorded legacy and sheds light on a very interesting period in European Jazz, which is always more than welcome. For the numerous Polish Jazz and Seifert's music connoisseurs this is an obvious must, and we should all be grateful to the Zbigniew Seifert Foundation, run by the incredible Aneta Norek, who is also the author of the excellent Seifert's biography, for faithfully bringing Seifert's legacy into the limelight!
Adam Baruch, Polish Jazz Blogspot & The Soundtrack of my life.