Ivan Paduart Herritage

THE MUSIC OF MICHEL HERR

Philip Catherine
Bert Joris
Toon Roos
Philippe Aerts
Hans Van Oosterhout

Tracks :

1. Le voyage oublié (Michel Herr / arr. Ivan Paduart)
2. H and C's dance (Michel Herr)
3. Song for Lucy (Michel Herr / arr. Ivan Paduart)
4. Thinking of you (Michel Herr)
5. No, maybe...! (Michel Herr)
6.

Ups and downs (Michel Herr)
7.

Beauty where it is (Michel Herr)
8.

Third chance (Michel Herr)
9. Song from your father (Michel Herr)

Musicians :

Philip Catherine -
guitar
(on #1 and 7)
Bert Joris -
trumpet
Toon Roos -
tenor & soprano sax
Ivan Paduart -
piano, keyboards
Philippe Aerts -
double bass
Hans Van Oosterhout -
drums
Producer Hans Kusters asked pianist Ivan Paduart to record a cd of Michel Herr's compositions.
The result is an excellent album, featuring some nice examples of Michel's writing, played in a brilliant manner by six outstanding European musicians.
Recorded at Aces Studio in Aartselaar (B) on May 21 & 22, 2011.
Mixed by Ivan Paduart and Michel Herr.
Released in October 2011.
CD (September 5163).
The album can be purchased in record stores, from the producer's web site (
Hans Kusters Music
) or via the email address
evelyne@kusters.be
.
Also available at
CD Market
,
FNAC Belgium
,
Amazon.fr
etc...
It is also available as a download a.o. on the
iTunes store
.
4 excerpts of the concert of the "Herritage" project in Brussels, to mark the release of the album are available on Youtube. Have a listen :
Also available :
Notes of life
Song for Lucy
From the liner notes :
" I first met Michel in 1985, during my first jazz workshop, where he was teaching piano and harmony. While I discovered the musician and his music, I first of all got to know, besides a good teacher, a man full of generosity.
Then I gradually explored his music, his harmonies, his discrete but efficient and sensitive way of accompanying soloists (Chet Baker, Toots Thielemans, to name only two). It is precisely this science of sounds and harmonies that inoculated me with the irrepressible urge to follow in his footsteps.
To me, he is one of the most complete and most modern musicians I know, who, despite his enormous background, never lost sight of the essential : emotion !
When Hans Kusters asked me to pay a tribute to him with a group of impressive soloists, I jumped on the opportunity, happy to play such beautiful music and to honour Michel for all the things he has taught me.
From the depth of my heart, I would like to thank Philip, Bert, Toon, Philippe and Hans for their creative involvement in these sessions and for their great musical insight.
I also warmly thank Hans Kusters for submitting this project to me, during one of the toughest periods the music industry has to face and at a time when jazz musicians, who remain more creative than ever, tend to be considered as relics of the past..."


Ivan Paduart
" It has been an intense pleasure for me to perform Michel's superb melodies : 'Beauty where it is' and 'Le voyage oublié'.
His original chord changes are full of challenges and surprises for the improviser.
The sequence of chords suggests some mysterious journeys through an unexplored labyrinth.
Many thanks to the rhythm section, which inspired my guitar playing all along these pieces.
To Michel Herr, a complete and generous musician, master in the art of voicings and tone colors."
Philip Catherine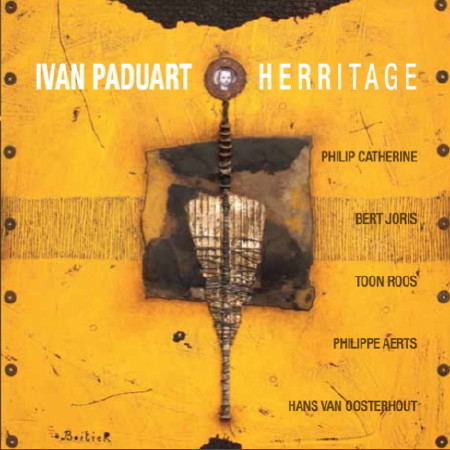 The press / La presse

"La superbe musique de Michel Herr
Pouvait-on trouver meilleurs interprètes de la musique de Michel Herr ? Ecoutez le sax de Toon Roos dans "Thinking of You", la contrebasse dansante de Philippe Aerts dans "H and C's dance", la merveilleuse ligne mélogique chantante de Philip Catherine dans "Le voyage oublié" et "Beauty where it is", les interventions subtiles de Hans van Oosterhout aux drums, l'émotion du piano d'Ivan Paduart dans "Song for Lucy", la trompette raffinée de Bert Joris dans "No, maybe,...!".
Ce sextet magnifie encore davantage une musique qui l'était déjà, magnifique. C'est un album qui swingue avec sophistication, qui groove avec délicatesse et qui prend son pied avec un beau sourire.
C'est comme le dit le septième des neufs morceaux de l'album :"Beauty where it is".
Jean-Claude Van Troyen, Le Soir (B).

"Quand un "all stars" belgo-hollandais rend hommage à un de nos compositeurs, cela donne un des plus beaux albums de l'année.
...pour célébrer la musique d'un des plus grands musiciens belges, Michel Herr, par un de ceux à qui il a fait découvrir le jazz, Ivan Paduart.
Michel Herr, compositeur prolifique et arrangeur aux idées originales...
Un all-stars à faire pâlir d'envie le producteur le plus blasé.
Philip Catherine est troublant d'émotion sur "Beauty where it is" et finement inspiré dans "Le Voyage oublié".
Si le double album du Brussels Jazz Orchestra consacré à la musique de Michel Herr mettait l'accent sur la plénitude de ses arrangements, Herritage consacre l'aspect humain et lyrique du musicien autant que ses talents de compositeur et donne à écouter une musique qui ne peut laisser indifférent.
Un album qui servira de référence dans la discographie du jazz belge."
Jean-Pierre Goffin, Vers l'Avenir (B).

"Herritage : neuf compositions superbes écrites par Michel Herr et, pour les interpréter, un casting de rêve ... autour du pianiste Ivan Paduart, leader de cette fantastique session...
Et c'est bien l'émotion qui est au coeur de ce nouveau projet car si le Brussels Jazz Orchestra, il y a peu de temps, mettait en exergue les qualités d'arrangeur de Michel Herr, ici, c'est davantage à son talent pour écrire des thèmes à la fois beaux et sophistiqués qu'il est rendu hommage. Sur des séquences d'accords entendues autrefois dans d'autres contextes ,..., les solistes s'envolent avec bonheur, s'appropriant des lignes mélodiques aussi pures que du cristal tandis que les harmonies sont parées de nouvelles couleurs chatoyantes. Dès lors, la musique que dévoile ce magnifique album frissonne d'un fièvre lyrique qui lui est inoculée en douceur. Car on ne sent ni l'intention, ni l'effort : juste l'allégresse d'une phalange de musiciens chevronnés en état de grâce célébrant l'un des compositeurs parmi les plus marquants du jazz moderne européen. Quel plaisir ce doit-être pour Michel Herr d'entendre son oeuvre interprétée avec autant d'amour par des confrères aussi talentueux !!!"
Pierre Dulieu, Dragon Jazz website.

Sur l'album et à propos du concert de présensation du cd le 10/11/2011 :
"L'album compte neuf titres écrits par Michel, dont on ne soulignera jamais assez les qualités de compositeur et d'arrangeur. Ce sont ces neuf perles et quelques autres : "Distant Echoes", "Notes of Life", "This Does It" que les musiciens prirent grand plaisir à relire, soulignant, s'il est encore nécessaire : la densité des arrangements, le choix des harmonies et l'organisation séquentielle de Michel Herr ("Ups and Downs"). Au fil de quelques quarante années de créations, Michel nous a légué quelques perles qui sonnent déjà comme des standards :"No Maybe", le romantique "Voyage Oublié" et, surtout :"Thinking of You" sur lequel se surpassèrent ce soir-là, en calls & answers : Bert Joris (tp) et Toon Roos, au soprano. Accompagné par le drumming délicat d'Hans van Oosterhout (souvent aux balais), la précision et la justesse de Philippe Aerts (b) sur "H and C's Dance" et "Ups and Downs"), Ivan Paduart mettait son talent et son inspiration au service des oeuvres ; créatif il fait aussi sonner les accents voulus par l'auteur (duo sur "Notes of Life" avec Philip Catherine). La ballade "Song for Lucy" débuta par une longue et jolie intro piano-soprano. On retiendra le crescendo trompette + ténor sur "Distant Echoes" ; "Song for Your Father" : pour le solo velouté de Bert Joris et "Beauty Where It Is" qui convient si bien à Philip Catherine (g), présent sur quatre morceaux. Le concert s'acheva en bis et applaudissements nourris sur "Third Chance" - applaudissements pour les musiciens mais aussi pour Michel Herr, qui nous a promis d'écrire encore quelques nouvelles oeuvres... magistrales."
Jazz Hot (F).

"Paduart verzamelde een leuke band rond zich om de soms speelse, soms lyrische composities van Herr te vertolken. Paduart zelf is een uitstekende pianist, en Philip Catherine (gitaar) en Bert Joris (trompet) komen het vuur wat oppoken. Leuke jazz van eigen bodem."
pdb, Het Nieuwsblad (B).