Bert Joris : trumpet
Paul Heller (D) or Lennert Baerts : tenor saxophone
Peter Hertmans : guitar
Nathalie Loriers : piano
Sam Gerstmans : double bass
Dré Pallemaerts or Daniel Jonkers : drums

+ String quartet
Benoît Leseure : 1st violin
Pierre Heneaux : 2nd violin
Jean-François Durdu : viola
Merryl Havard or Annemie Osborne : cello

10 musicians : 6 renown jazzmen, all superb soloists, and a string quartet.

Michel Herr, who is known internationally for his talents as a jazz pianist/composer/arranger, proposes here exclusively original compositions, marked with his unique touch.

The arrangements are fascinating and illustrate his attachment to a music that is accessible, rich in melodic and harmonic contents and combined with nice grooves. The strings have a substantial role as a musical partner in the project and the soloists are first class. The dialog is creative and the chemistry works.

An album has been recorded in November 2018, to be released in 2019.
See some photos taken in the recording studio.

Compositions, arrangements and musical supervision by
Michel Herr.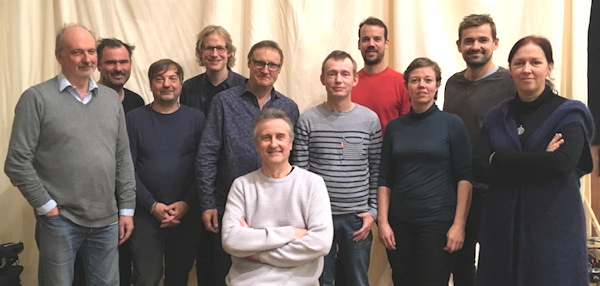 Peter Hertmans (gt), Sam Gerstmans (b), Dré Pallemaerts (drs), Paul Heller (sax), Bert Joris (tp), Michel Herr (comp/arr.), Pierre Heneaux (vl 2), Benoît Leseure (vl 1), Merryl Havard (cello), Jean-François Durdu (alto), Nathalie Loriers (p)